A Louisiana adventure
I traveled down to Abita Springs, Louisiana. to visit my long-time friend, Jen, and her new hubby, Darren. I left early on Friday morning; we were all dressed and out the door by 6:45a!
When Jen asked if there was anything particular that I wanted to do (or eat) while I was in town, my answer was all about food! I miss that good La. food! Jen was a fabulous host and fixed gumbo on Friday night for dinner, yum!
Saturday, we ventured around Mandeville and eventually landed upon a local farmer's market. We then decided to stop into Fleurty Girl, a very cute "Everything New Orleans" boutique.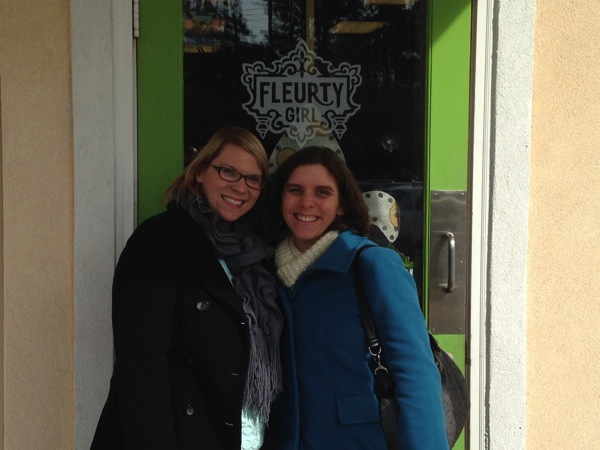 My prized purchase was a signed copy of In a While, Crocodile, a cajun slow-cooker cookbook with recipes like Corn and Crab Bayou Bisque, Flambeaux Gumbo, and Laissez les Bons Temps Rouler Shrimp Étouffée. Jen and Darren bought a copy too, so we've agreed to cook through it and update each other on the results. I'm going to hold you to it, you two!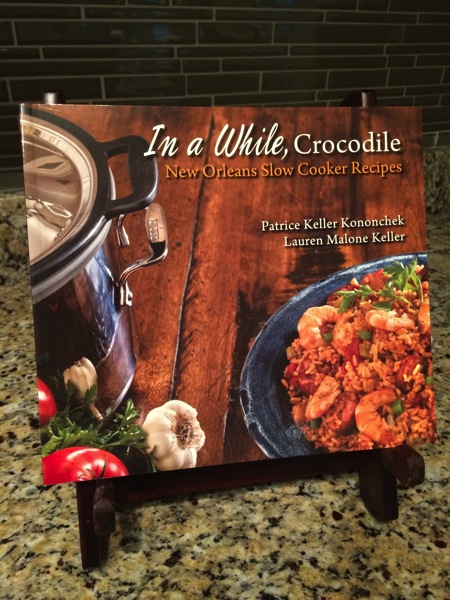 After our shopping concluded, it was time for more great food. Crabby Shack is owned by the same family as Young's Steakhouse in Slidell, a restaurant my family frequented. Jen and Darren had not been to Crabby Shack, so my visit was a perfect excuse to try it. Darren and I got adventurous with our appetizer and ordered frog legs. "Tastes like chicken. Ribbit!"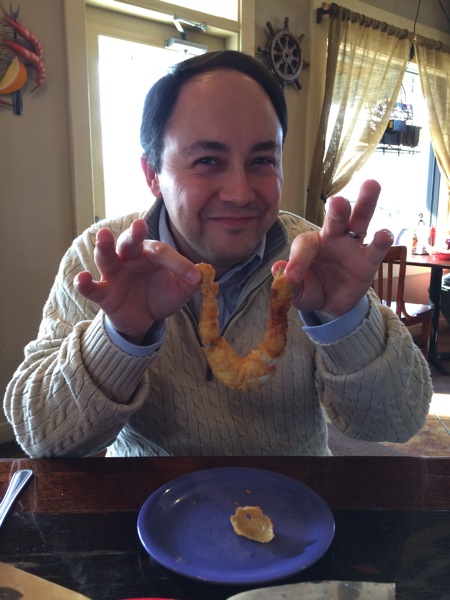 I asked Chad's mom if there was anything she needed while I was in La. In addition to bringing her creole seasoning, she asked about finding Mardi Gras fabric. And man, did we hit the jackpot! Sew This is a local quilt shop with a great selection of fabrics. They had a boat load of Mardi Gras, LSU, and New Orleans themed fabrics. Beth kept asking if the amount she wanted was going to be too much to bring back. I had to remind her that it was just me traveling; I had plenty of room in my suitcase. :)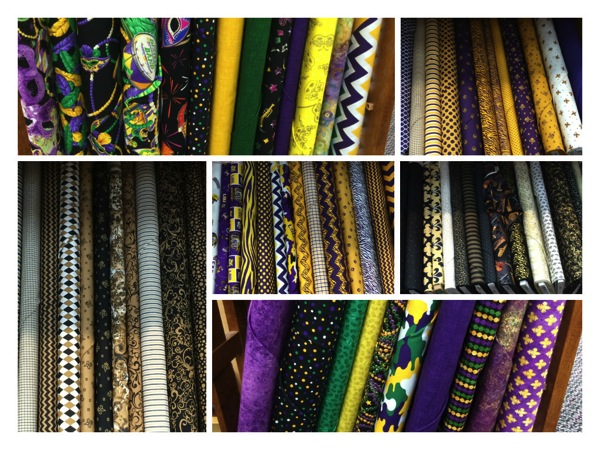 In one of late night chats, I asked Chad if he wanted me to bring home any King cake. He was only interested if it was from Ranzazzo's. Well, lucky for him, Nonna Randazzo's had two locations close to Jen's. So, we stopped in and picked up this beauty. We kept it a secret from the girls until I got home!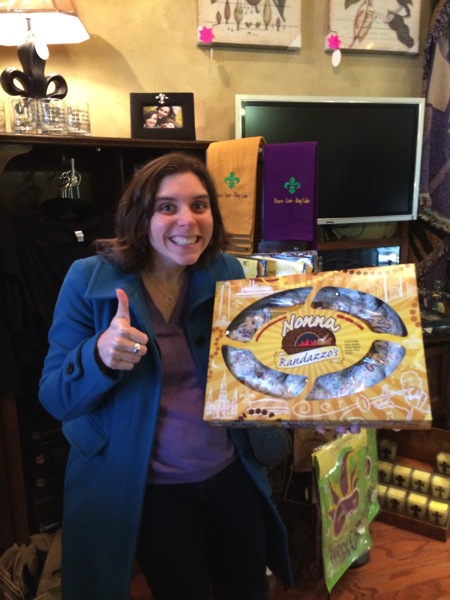 Since the King cake was off limits until returning to Maryland, we headed off to Café du Monde on Saturday evening for dessert. You can't eat beignets without making a powdered sugary mess!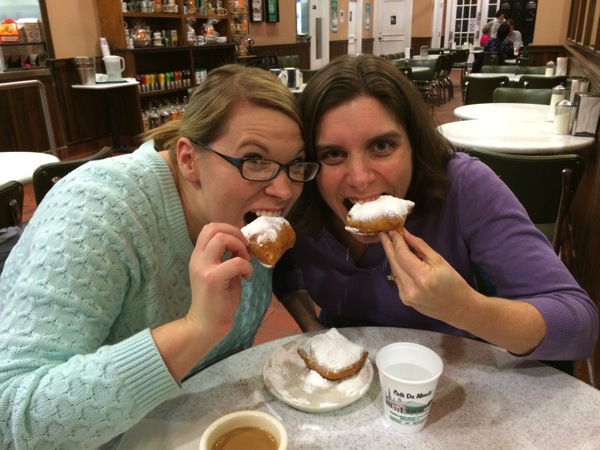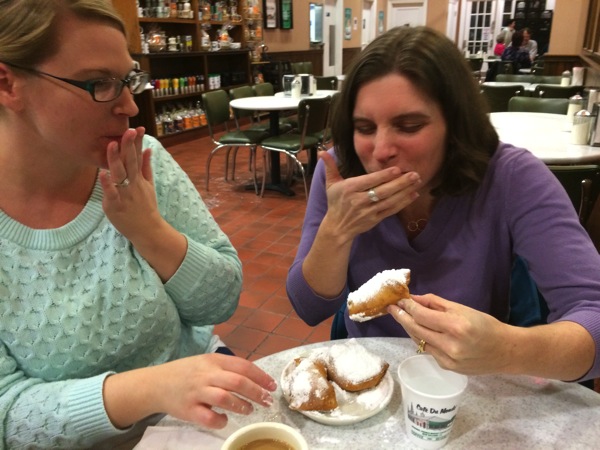 Sunday started out nice and relaxing. We attended church at St. Timothy UMC, then ate an awesome brunch at The Chimes. We couldn't pass up the Boudin Balls, and I feasted on Eggs Benedict topped with crawfish, cheese grits, hash browns and sausage. So so good! We all brought half the meal home for dinner.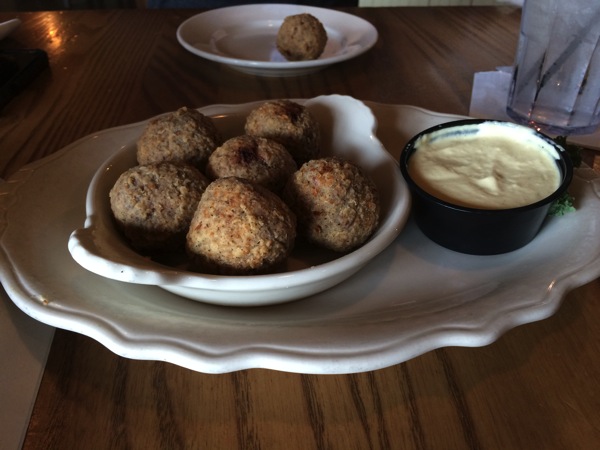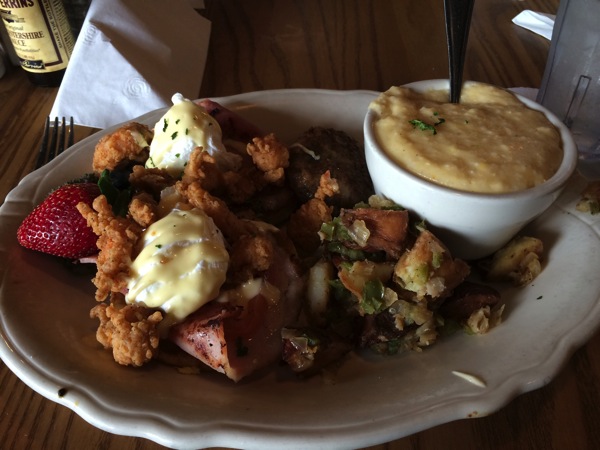 I took advantage of a quiet house and took a 2-hour afternoon nap. A pretty rare occurrence for this Momma, and it was a good thing I did! The rest of Sunday was a roller coaster.

My 8:10p flight back to BWI was delayed to 8:50p, 10:50p, 11:35p, Cancelled, then reinstated to leave at 11:50p. I finally boarded a plane at 12:00a, landing at 3:15a. A kind couple I met while in line to reschedule our previously cancelled flight offered to give me a ride home. We made it to their car around 4:00a only to find the car battery was DEAD! The car was jumped by the parking lot attendant and I was finally headed home. I climbed in bed at 5:00a.
I had a fabulous visit and an adventure that I will never forget!!