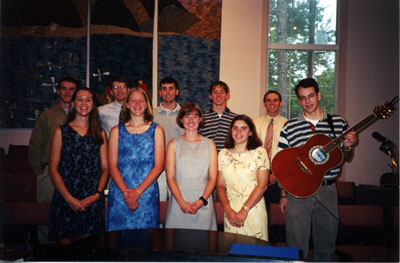 Aldersgate United Methodist Church
We both began our adult faith journeys at Aldersgate, where we were both active in the youth group as well as the youth choir. In fact, this is where we met. Through these groups, we participated in many mission trips, youth conferences, and choir tours. This is also where Jen first started ringing handbells, following in her parents' footsteps.

Auburn Wesley Foundation
Once we got to college, we both quickly got involved with the Wesley Foundation, the Methodist campus ministry at Auburn. Here, we were involved with choir, bible studies, and mission trips including summer long missions and a trip to Venezuela. We were also active in leadership roles. In fact, Chad was the president his senior year, and served as interim summer director after graduation.

Cornerstone UMC/Auburn UMC
Our freshman year, we attended Auburn UMC on Sunday morning, and participated in some activities. Jen became involved with the handbell choir here through her sister. Our sophomore year, Cornerstone, a new church plant, was started. This church provided the contemporary service we were looking for in a perfect atmosphere - a skating rink. With so many church ties, we put them all together for our wedding. We were married in Auburn UMC by the pastor of Cornerstone and the minister of the Wesley Foundation.

Mt. Pisgah UMC
After attending several churches in Atlanta, we found our home at Mt. Pisgah UMC. This large church provided a place for Jen to play bells, as well as a contemporary service in which Chad played in the praise band. We also aided in starting a group for young married couples.

Glen Mar UMC
After only a year in Atlanta, we moved to Columbia, Maryland. We quickly began attending Glen Mar UMC, and became members in February of 2004 We became active with a worship fellowship called 4:24 as well as a Young Adult Bible Study. Jen was involved in the handbell program, and Chad was playing guitar with the adult praise band, Salvation Rock, and helping with the youth praise band, Second Chance. We have gone as chaperones on youth mission trips to Hurley, VA, in June of 2004 and 2005 and to Slidell, LA, in July of 2006.